We've all heard the story about a man named Jed, a poor mountaineer barely kept his family fed, etc. Well you might think of my Special Guest this week as Uncle Jed or in this case Mike Patton, CEO, of Three Star Oil Drilling and Producing Corporation and in this case clever Vs. lucky as you will soon find out!
Background synopsis of Ira M. Patton (Mike Patton):
Graduated from Auburn University in 1969 with a B.S. in Business, earned his Masters of Business degree at Samford University, and graduated from Birmingham School of Law and served as a Captain in the US Army.
Prior to starting Three Star,
Youngest explosive engineer in the United States. For years was a member of the International Society of Explosives Experts and American Institute of Mining and Metallurgical Engineers and other professional organizations.
Worked for and did consulting work for several public companies on the New York and NASDAQ exchange.
Atlas (NY). Had the state of Alabama for explosives sales. More than doubled sales in short time.
Trojan Powder Company (NASDAQ). Had the southeast for sales and again significantly increased sales.
Two clients were the largest quarry company (Vulcan) and largest coal company (Peabody) in the country.
Sales were made by teaching more effective blasting techniques for clients.
Rocket Research, Explosive Corporation of America
Did jobs from Washington State to Southeastern Kentucky.
Worked on development of Astrolite, a derivative which was used to frac oil wells and is the most powerful non-nuclear explosive in the world.
Some Oil Facts:
U.S The Department of Energy reported in their Techline Bulletin of March 2002, that "Two out of three barrels of oil discovered in the United States remain untapped." Techline estimates some 200 billion barrels of oil has been left unrecovered with current producing technology. Currently in the United States, there are over 400,000 wells that have been shut in because of their inability to produce oil even though approximately two-thirds of the original reserves are still in place! At the current rate of $100 per barrel, this is a huge monetary opportunity. Even with successful primary and secondary recovery, generally more than 60% of the oil in the reservoir is never produced. These poor recovery rates are known and accepted in the oil industry. Three Star's production methodology will also result in a significant reduction in operating expenses (at least 80% less than standard lifting costs), reduction of the environmental impact and associated liability of producing oil, exceptionally high tax advantages (capital expended is largely intangible drilling costs or IDC's), and the ability to recover the known oil reserves at a production rate previously considered improbable.
Three Star Proprietary Technology:
Three Star has devoted inordinate time, resources and energy and more than $4.3 million toward the development of a proprietary technology, referred to as Mining Assisted Petroleum Development, which results in immediate increase in oil recovery from known oil reservoirs. This in-field Development is truly field tested, deemed credible, and has proven to be extremely reliable and very discriminating when applied skillfully. The Project is now at the final phase of development prior to commencing production.
The new technology Three Star is implementing and has nearly completed is mining assisted and exploits the use of horizontal drilling into the oil formation to the utmost. The Company sank a twin access shaft (one for primary hoisting and the other for utility conduits and secondary exit) from the surface through an extremely well documented formation with excellent oil reserves. An access tunnel extending from the twin access shaft was excavated and constructed just below the oil reservoir. At the end of the tunnel, a 25' diameter drilling station or workroom was constructed. From this underground workroom, a total of 37,000 feet of horizontal footage was drilled into the oil formation. There are 34 horizontal oil wells in total, drilled in all directions like the spokes of a wheel, and each lateral well begins just below the 50' thick oil sandstone and ends at the top of the reservoir. Further to this, there are an additional 23 branches drilled off of the 34 horizontal oil wells, which further exposes or allow drainage access to the oil formation. This horizontal drilling method offers greater exposure of the producing formation, especially when compared to a vertical well.
Three Star Oil's principal asset is the Siggins Oil Field which they own 100% free of any liens or encumbrances.
Siggins Oil Field
The Siggins Oil Field has been rated one of the top oil mining prospects in the World. The Field is located in Cumberland County, Illinios in the central portion of the Illinois Basin, which is relatively shallow depositional basin with shallow wells. Oil has been produced here since 1906. Primary production of the Siggins pool lasted until the 1940s, at which time massive water flooding was introduced and is still active at this time.
The uniqueness of this Field is that it contains 100,000,000 bbls. of oil in two distinct sandstone oil bearing zones of 39 feet and 57 feet, averaging 36 gravity oil, within the first 550 ft.
Although the Siggins Field contains significant oil reserves, it is not economically feasible to produce the reserves using conventional tertiary recovery methods, which would only recover somewhere between 25% to 30% of the oil. By using the DAD method, the recovery rate is increased phenomenally to approximately 80% with a shorter oil extraction time per 100 acres of 4 to 5 years and an approximate lifting cost of only about $2.00 per bbl.
The DAD process employs numerous proprietary methods while also utilizing disciplines from both the coal and oil industries. This method more than triples the percentage of oil recovered as compared to tertiary oil recovery while also drastically reducing the average cost of recovering oil from about $12 per barrel to LESS than $2 per barrel. In donig so the DAD process transforms marginally profitable recovery projects into extremely profitable operations.
Unique factors of the advanced DAD oil recovery system:
The simplest system for oil recovery with gravity drainage and no working parts.
Higher recovery volume with between 65% and 80% of oil recovered as compared to between 5% and 35% oil recovery with conventional techniques.
Reduced recovery cost by as much as 90% of costs incurred when using conventional procedures with less than $2.00 per bbl. lifting cost resulting in substantiaaly greater profits.
Faster recovery of 5 to 10 years as compared to 20 to 40 years using conventional methods, with an accelerated time frame possible by creating additional pressure through water input wells and proven lower gas zones.
Simplified production with only one worker necessary per 150,000 feet of oil reservoir as compared to one worker every 1,000 feet with bore hole recovery - this also means lower requirements for work equipment and drill sites as well as less down time and reduced equipment repair and replacement.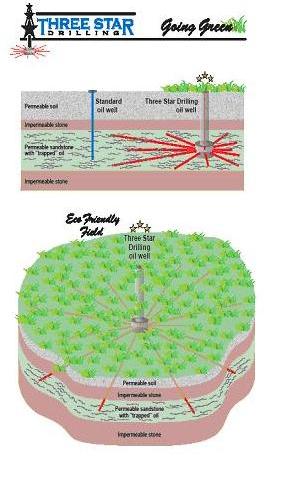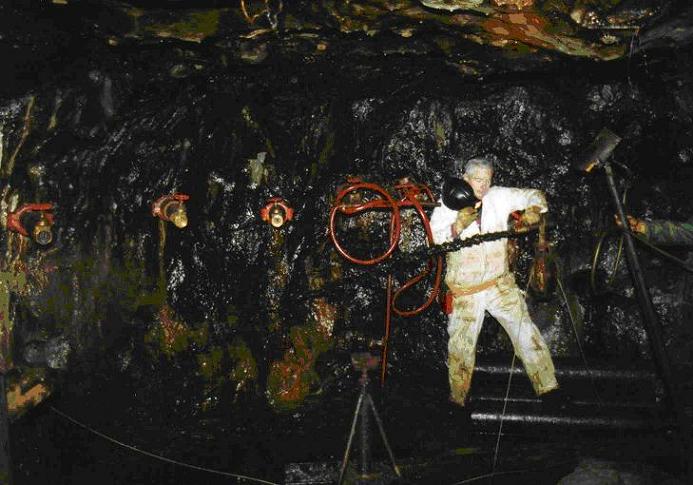 Direct Access Drilling (D.A.D.) was devised when oil was below $20 a barrel as a low cost method of increasing oil production of old low flow fields thus reducing the average cost of producing a barrell of oil from $12 to just $2. Three Star Oil is developing the first D.A.D. operation in the United States; Siggins Oil Mining Project No. 1
Three Star has completed a concreted 10 foot by 12 foot mine shaft through the oil zones, and drilled out laterally from a circular workroom (like spokes in a wheel), totalling 37,000 linear feet and 34 horizontal oil wells in the oil bearing zones covering 100 acres. Estimated reserves on Project No. 1 are 4,339,500 bbl of 36 A.P.I. gravity oil.
The holes were drilled at a slight incline creating a near perfect drainage so the oil can easily flow into the oil collection well, and the majority of the oil can be recovered.
| | |
| --- | --- |
| | |
| Looking down D.A.D. shaft while under construction. | Downhole lateral drilling equipment |
DIRECT ACCESS DRILLING (D.A.D.) has been developed by Three Star on the 2600 acre Siggins field. The field contains approximately 250,000,000 barrels of oil and 3 billion cubic feet of gas. The uniqueness of this field is that within the first 520 feet it has approximately 100,000,000 barrels of oil in two distinct sandstone oil zones of 37 ft thick and 39 ft. thick averaging 36 gravity oil.
Three Star has completed a concrete 10 X 12 ft. mineshaft down through the oil zones and from a circular workroom drilled out laterally (like spokes in a wheel) 37,000 linear ft. The lateral holes were drilled at a slight incline creating a near perfect drainage (see picture, depth 358 ft).
A machine (the Green Machine) expands 1 m.c.f. of natural gas to 10 m.c.f. inert gas (CO2 and nitrogen). On a four hour test 3,000 feet from the mine shaft, inert gas was injected under 150-P.S.I. and 380 degrees F. resulting in the mine shaft filling with oil and water on a test of a few hours.
The use of inert gas for the oil zone results in higher recovery rate (approx. 80%), a lesser oil extraction time per 100 acres (4 to 5 years), and approximately $2.00 per bbl. lifting costs.
The combination of a Field with know reserves, and the Three Star D.A.D. process results in a low risk, high profit, operation with substantial tax benefits.
Final Phase
Test and convert water injection wells to gas injection wells.
Install high pressure lines and fitting from Green Machine to selected inert gas injection wells.
Test all wells and plug those that will require plugging.
Case and secure large pump in bottom of mine shaft capable of 8,000 to 10,000 bbls. per day.
Perform a large frac in one of our lower zones to accommodate water disposal.
Acquire an adequate pump to inject water into disposal well.
Prepare our gas well for conversion to the CO2 machine.
Prepare Green Machine for special project of CO2 injection.
Finish our new hydraulic invention which allows us to do work on the Siggins, replacing three or four other pieces of conventional equipment which are much slower.
Due to new laws all the oil and injection wells we will not be using will have to be plugged using a new expensive format.
The Injection Process
To maximize recovery on any secondary or tertiary method, it is necessary to inject gas to move the oil into a producing mode. The Field contains a completed gas well that will provide the gas for the conversion machine (inert gas injection plant or Green machine), which converts the natural gas to inert gas for injection (CO2 and nitrogen).
Economical and Practical Sense
It makes economical and practical sense to finalize the DAD and Waste Recycling system, as the Federal and State Construction and Development Permits have been issued and the procedures approved.
It is important to note that Three Star owns the equipment used for drilling and production, and the the project is already more than 75% complete.
The company is projecting a comfortable 3,037,650 bbls. of 36 API gravity oil (70%) will be recovered within 8 years once full production commences, returning the Company and it's interest owners about $60,753,000 at $20 per bbl. A contract to sell the oil to a Marathon refinery located 17 miles away is in place. (Prices vary according to the market).
Additionally, the Company and it's interest owners stand to profit substantially from the Company's creation of a valuable secondary use for the Siggins Field that will create phenomenal value through the Oil Based Waste Recovery project.
It is with great pleasure that Mike Patton, CEO, of Three Star Oil Drilling and Producing Corporation, will be my Special Guest this week.
Please plan on joining us to socialize and meet new friends.
Thanks all.