To contact Gary:
Phone: 480-225-9888
Email: Gary Glava
Sites: Arizona Big Boys & Their Toys
Making his third appearance as my Special Guest it is my pleasure to welcome back Mr. Gary Glava - affectionately known as "Sugar Daddy" .
Gary's Big Boys & Their Toys returns to the Phoenix Civic Plaza with the largest All Mens Luxury Products Expo in the world. The show will feature custom built motorcycles, high-end jewelry, home furnishings including billiard tables, BIG screen TV's, stereo systems, computers, health and exercise equipment, mountain climbing wall, radical muscle cars, the coolest boats, the fastest aircraft, golf, hunting, fishing gear, and other outdoor recreational and sport equipment, and much more - all for sale.
Stop by and see us on...
Friday June 18th 2pm - 9pm
Saturday June 19th 10am - 9pm
Sunday June 20th 10am - 6pm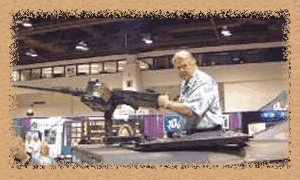 "Sugar Daddy" can be a tough SOB!
Gary says, "This is going to be a fun show. When you go to a boat show all you see are boats. When you go to a gun show all you see are guns. I've tried to take the best of all those shows and combine them into one event and make it interactive."
Gary says he has to be the most courageous man in America or craziest as he has started his very own car company. His first product is the Coyote 4x4.
Designed as an inexpensive ($15,000) go anywhere vehicle. Everyone should have one! Go to www.coyote4x4car.com for further details.
There is still time to reserve your space and become an exhibitor at this years Men's Luxury Product Show! Arizona's largest consumer product show of the summer.
Gary is offering a special rock bottom Soirée discount to Soirée members only. Contact me and let me know that you are interested and I'll forward your request to Gary who will fix you up with the Special Soirée discount.
Gary has promised to bring a few of his toys to this weeks Soirée (and perhaps a few beautiful models as well) to help field questions from our group.
It is with great pleasure that Gary Glava, founder of Big Boys & Their Toys, will be my Special Guest this week.
Please plan on joining us to socialize and meet new friends!
BBB