7704 E. Doubletree Ranch Road
Scottsdale, Arizona 85258

Click here for a map! (Mid-way between Scottsdale Rd. and Hayden, north side of Doubletree Ranch Rd. - Doubletree Ranch Rd becomes Via de Ventura at Hayden).
My Special Guest this week is Sherry L. Butler, Principal, Sherry L. Butler Communications.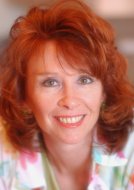 Sherry L. Butler
To contact Sherry:

Marketing 101

You can't get clients if they don't know about you!
Introducing Sherry Butler of Sherry L. Butler Communications.

Here is sample feedback from Sherry's clients when their stories ran in various media:
I saw your interview on Channel 12 and 3 this week and want to order some of your products!

I read the article in the Arizona Republic, I want to register for your event and how can I get more involved with your company?

Calls for our new product have increased over 50% since our feature ran in the New York Times!

The segment on Good Morning America generated calls from media all across the country!

I am getting calls all over the nation, and even from celebrities, for my product thanks to the editorial in People Magazine!
Sherry founded Sherry L. Butler Communications 11 years ago. Her firm provides Public and Media Relations, Advertising, Marketing and Special Event Publicity. Her professional and creative team will work with you to create an image that gets you the attention you need to make you successful! Don't waste your money in areas you don't need!

Do you need publicity, branding, logos, brochures, a website, advertising campaigns, media buying? How are you presenting yourself to your audience? Are your marketing materials consistent with your website? Have you thought about using publicity in your media mix?

One area of her business is Publicity/Media Relations, which is a very valuable tool that is underutilized by many companies of all sizes. It is highly cost effective for small to mid-size firms.

Media coverage is a third party "endorsement". People tend to believe what they see, hear or read in the media and public relations' professionals generate many of the stories.

If you have a negative response to your firm, a bad review, something happened in the company that got out there that is untrue - you definitely will need publicity to address this immediately.

A company of any size can benefit from Publicity/Media Relations. Receiving coverage in the media gives you exposure to the audience you want to attract. It is like receiving a third party "endorsement".

However, you must have something readers, listeners or viewers will find interesting. You need a "hook," something that connects the audience to something they care about and makes your news compelling. What is unique or different about your business?
Here are examples of how publicity is utilized:
Raise public awareness about your company, product or service
Opening a new business or division of your company
New invention, procedure, process or tips for consumers or B2B
You or your company can tie into current events, locally or nationally
Introducing a new service or product into the market
Promotion of special event, meeting or conference to build attendance
Celebrity endorsement of your product or service
Capital fundraising for non-profit organizations
Company spokesperson, author, celebrity, noted speaker to speak on particular subject of interest to the community that you are bringing in or affiliated with
News on any involvement of your company or employees with the community
Butler Communications' expertise is presenting their clients messages to relevant news sources and securing interviews! We have conducted national and local media relations for various clients in areas such as corporate, retail, government, non-profit, special events, national speakers/authors, medical, destinations etc. See sample client list at www.slbcom.com

Butler Communications also provides Media Relations for a niche audience - non-fiction authors. From self-publishing writers to celebrity and best selling authors, including Deepak Chopra, M.D., Wayne Dyer, Ph.D., Naomi Judd, Maya Angelou and more.
What the media says about Butler Communications...
I deal with "your kind" every day. I get those that read a "script." You, Sherry, take on clients in whom you believe and your pitch comes from the heart. Many "bug" me about getting their guests on the air, you are professionally persistent. Many don't understand the who, what and how of our station, you do. I don't always say yes, yet you are consistently professional. I love working with you.
Rosemary Scarfo, producer
KTAR Radio
This is in reference to Sherry Butler's work with me and a series of stories having to do with domestic violence for the newscasts I anchor. Her help was simply invaluable. She became my primary resource and showed a remarkable understanding of the frustrating medium of television news. I threw a lot of requests her way and she always produced. Never did I feel I was asking too much. In addition, she seemed to share my passion for the subject of domestic violence and that was truly refreshing. So many P.R. people are apathetic and cynical. I highly recommend Sherry Butler and Butler Communications and would be happy to refer anyone to her service. Sincerely,
Patti Kirkpatrick
Anchor - KTVK- NewsChannel 3
Sherry Butler effectively and efficiently pitches stories that impact people's lives - how they feel, where they live, how to improve their quality of life. She coordinates interviews, offers suggested discussion topics, and smoothes out the process that leads to publication. Her professionalism and focus make her an invaluable asset to me, to our readers and to her clients.
Mike Gossie
The Tribune
Most companies can reap the benefits of Public Relations. Contact us to professionally evaluate your business or project to determine the adaptability of your concept to a Public Relations campaign and any other marketing components you may need.
It is with great pleasure that Sherry Butler, Principal, Sherry L. Butler Communications, will be my Special Guest
Please plan on joining us to socialize and meet new friends.
BBB