7704 E. Doubletree Ranch Road
Scottsdale, Arizona 85258

Click here for a map! (Mid-way between Scottsdale Rd. and Hayden, north side of Doubletree Ranch Rd. - Doubletree Ranch Rd becomes Via de Ventura at Hayden).
My Special Guest this week is Russell Gill, Owner, Hollywood Allstars.


Russell Gill
To contact Russell: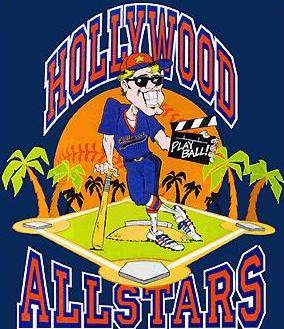 Russ Gill grew up in Tucson, AZ and age 14 was hired as the Cleveland Indian bat boy for Spring Training games played at Hicorbett Field in Tucson.

In 1969 the Chicago White Socks moved their AAA Baseball team to Tucson and Russ was immediately hired as assistant to the General Manager where he wore many hats working in sales, promotions, and stadium operations.

In 1970 Russ was hired as Director of Marketing and Promotions for the Cleveland Indians AAA team in Witchita, KS. As Director of Marketing and Promotions Russ helped lead the Witchita Aeros organization to a record breaking minor league attendance and was named Marketing Director of the year and Grand Sweepstakes award for largest attendance in minor league baseball at the annual baseball owners winter meetings held in Phoenix, AZ.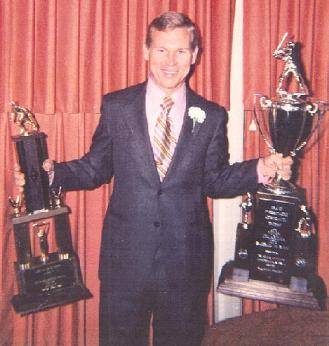 Russ Gill holding Marketing Director of the Year and Grand Sweepstakes Awards - 1970
Following Russ's award winning 1970 baseball season he received numerous job offers and was hired by the Houston Astros Organization as Business Manager and Director of Stadium Operations for the Oklahoma City 89ers Baseball Team.

Following his time with the 89ers Russ's career in baseball management included serving as General Manager of the San Antonio Brewers, and Owner and General Manager of the Annaheim Angels Minor League Team.

In 1976 Minor League President, Bobby Bragan, asked Russ to create, structure and oversee the Minor League Marketing and Promotion Corporation for over 100 Minor League Baseball Teams. During this time Russ developed a close relationship with Mr. C.J. McNutt President of the Campbell's Sales Company (Campbell's Soup).

In 1977 Russ presented an idea to Mr. McNutt for a national Campbell's kids promotion which was test marketed by Campbell's in 10 ballparks during 1978.

Following the success of the test marketing Mr. McNutt informed Russ of Campbell's desire to run a Campbell's Kids Day promotion in each of one hundred and seventeen minor league baseball stadiums during the 1989 season.

At that time Mr. McNutt suggested that Russ start his own sports marketing business and run all of Cambell's sports related client entertainment programs which he did for ten years when Mr. McNutt retired. This was the beginning of Russ's present day company, Hollywood Allstars Celebrity Sports.

During the past 25 years Russ has coordinated celebrity golf, tennis, basketball, and softball events for various charities throughout North America. He has also created a unique format allowing major corporations to utilize these exciting celebrity golf and softball weekends for VIP client entertainment.

Examples include many major companies such as Gillette, Kelloggs, Keebler Cookies, Pepsi Cola, Scott Paper, and Frito Lay who have orchestrated regional sales, trade, marketing programs and Sweepstakes in some of the largest grocery and drug store chains throughout America.

Last year Russ was invited by the President of the French Baseball Federation to coordinate a series of high profile celebrity activities in Paris and Monte Carlo in conjuction with the French Olympic Baseball Team. However, due to the post 9-11 atmosphere in France the event was never held.

Russ is currently in Scottsdale working on his next big celebrity golf and softball weekend which has been schedule for Friday, January 21 and Saturday, January 22, 2005. This specific event will benefit 2-3 youth organizations including the Arizona Republic Youth Literacy Program, and much need books and school supplies for the St. Mathews School and one additional yet to be confirmed youth charity.

This event will feature a combination of at least 20 well known Major League Baseball and Hollywood Allstars entertainment personalities. These celebrities will participate in a VIP Golf outing on Friday afternoon, play softball at Scottsdale Stadium on Saturday afternoon and then attend a spectacular three hour VIP Party on Saturday evening.

Those interested in supporting or attending these exciting celebrity weekend activities may contact Baron Benham at 480-949-7331 or baron@baroncapital.com or spend some time visiting with Russ at this weeks Soiree.

It is with great pleasure that Russell Gill, Founder, Hollywood Allstars, will be my Special Guest
Please plan on joining us to socialize and meet new friends.
BBB