The Soirees Special Guest this week is
Michael Farley
of
USAERO
Diamond Regional Distribution Center
for
Diamond Aircraft Industries
Helping us kick off the Spring Soirees this week is Michael Farley. Mike is originally from Atlanta, GA and has been flying for the airlines since he was twenty and has accumulated some 12,000 to 13,000 hours. Today he flies 767's for DHL and is a Territory Manager (sales representative) for USAero which is a Diamond Aircraft Distributor. Mike handles the Arizona and Southern Nevada territory. USAero handles the territories of seven states: AZ, NM, CO, UT, NV, CA, and WY. So if you live in any of these states and are interested in learning more about Diamond Aircraft give Mike a call and he will hook you up with the right distributor.
Mike owns two airplanes and both are Diamond Aircraft. He owns the twin engine DA-40 and it's newer version the twin engine DA-42. (he has a home in Florida and here in Phoenix) so it's handy to have a plane in both locations.
Last summer USAero and Diamond Aircraft held a show and tell out at the Scottsdale Airpark featuring their new D-Jet. The D-Jet is pictured
below and is certified for single pilot operation. So I grabbed a friend and we went out and that's when I met Mike. The D-Jet is a sweet bird with plenty of luxurious room inside. It's also built out like a Bentley inside. The leather seating is exquisite!



D-Jet
I also got to check out the DA-42 like the one Mike owns. It is an amazing airplane too. The engines are so high tech that they can even burn diesel (diesel is certified for use in Europe but not yet in the US) and I forget the mpg but it was very high. It's also a very quiet airplane. One took off while we were checking the display out and we barely noticed it.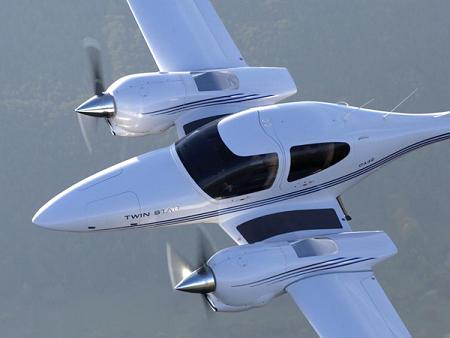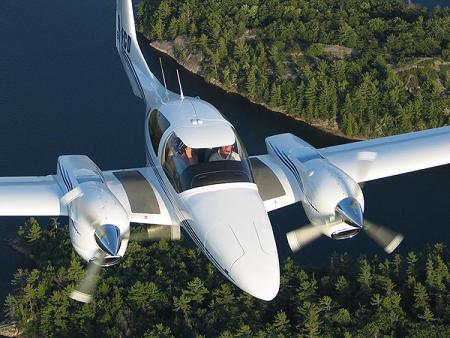 Diamond DA42 Twin Star


Even the single engine DA50 is pretty nifty. The avionics displays in all these aircraft could be right out of Star Wars but isn't. The fact is Luke Skywalker never had it this good! Time for a remake and update of the movie I guess. Diamond Aircraft has set the new standard!