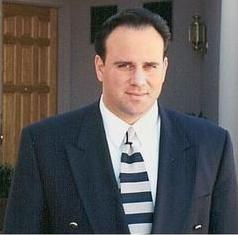 Michael Manfredi
Owner & President of The Mason Jar in Phoenix
Mark your calendar to join us from 6pm - 9pm, Wednesday, February 25, 2004 at Jetz Americana, located at 10050 N. Scottsdale Road, Scottsdale, AZ 85253. See driving instructions at bottom of page or click here for map!




To contact Michael:
Mason Jar : 2303 E. Indian School Rd. • Phoenix, AZ 85016 • 602 -956-1266
Box Office : 602 -954-0455
Email: mixemail@cox.net
Website: www.masonjarlive.com
This week it is my pleasure to introduce as my Special Guest this week the Owner and President of The Mason Jar Phoenix, Michael Manfredi. Michael and I met at my Wrigley's Mansion Investment Luncheon this past January.
The Mason Jar Phoenix was established in 1980 and is one of Phoenix's more lively institutions!
Catering to the Heavy Metal and Hip Hop fans The Mason Jar is open to folks of all ages, except specifically advertised 21 and over events.
The Mason Jar is a general admission, club style, concert venue with a full bar, state-of-the-art house sound and lighting systems and experienced full time technical staff and host Headliner Concerts, CD Release Parties, Dance Functions, Local Musical Performances, Competitions, Music Video Taping, School Functions, and Private Parties.
Some of their clients include:
Clear Channel Entertainment
Evening Star Productions
AMJ Concerts
Nobody in Particular Presents
Mic Manfredi Presents
98KUPD FM radio
Psychopathic Records
Dreamworks Records
Virgin/Immortal Records
Warner Brothers
Columbia
Elektra Records
Creative Artists Agency
Artists Group International
The Agency Group
Artists Worldwide
William Morris Agency
Go to their Calendar for upcoming events.
I want to see YOU at the Soiree!
It is with great pleasure that Michael Manfredi, Owner & President of The Mason Jar in Phoenix, will be my Special Guest this week.
Please plan on joining us to socialize and meet new friends!
BBB
PS Go here for a moving experience.
Baron Benham • Baron Capital Management, LLC • 8019 East Tuckey Lane Scottsdale, Arizona 85250 • 480.949.7331 • 480.949.7381 Fax Baron@BaronCapital.com • BaronCapital.com
---
Services Available Private Money Management • Tax Advantaged Investments • Variable Universal Life (with Strategic Tax Benefits) • Stocks • Bonds • Mutual Funds • Annuities • Individual, Joint, Corporate, Trust, Endowments, Foundations • IRA's • SEP's • 401K's • Profit Sharing • Defined Benefit Plans • Defined Contribution Plans • Private Placements • Cafeteria Plans • REIT's
---
Soiree Information Held weekly on Wednesday evenings from 6-9pm. You are welcome to bring friends but please no Stock Brokers, Financial Representatives, Investment Advisors,or Insurance Agents. No host bar.
If you or someone you know would like to be our Special Guest in the future please let us know.