This week's Soirée is concentrating it's efforts on mobilizing the community with a call to action.
The Out of Africa Wildlife Park desperately needs our help! You, I and the community must act quickly to save over 300 wonderful animals who are being evicted from their home located on the Fort McDowell Indian Reservation northeast of Fountain Hills, AZ.
Founded 16 years ago on 16 acres of Ft. McDowell Indian Reservation by Dean and Prayeri Harrison, the Out of Africa Wildlife Park is a place where animals and humans interact giving people an opportunity to experience the emotional and intellectual side of wild by nature animals. Many of the Park's animals are endangered and threatened species while others are rescued animals. All are here to teach compassion towards animals.
| | |
| --- | --- |
| | |
Once again these animals are being threatened! On May 5 an eviction notice was received giving the Park 56 days to leave with all the animals. Plans have been underway for over a year to move to a much large space in Camp Verde (24 miles SE of Sedona) where over 100 acres of land have been purchased. Unfortunately, the Park has had to contend with satisfying over 100 government entities for the necessary permits, authorizations etc. which has taken far more time, energy, and money than ever expected. The Park is still seeking an extension from the tribe after a two week request was denied! In the meantime, the Park is going full out to make the June 30 deadline to not only move all the animals to temporary sanctuary style facilities but also to restore the land to it's original condition.This entails dismantling all structures, septic, etc. in order for the tribe to build an RV Park!
If the Park does not make the deadline of moving all the animals and restoring the land to it's original condition the animals will be at risk of being seized, impounded, sold, put up for auction, or otherwise disposed of by the Fort McDowell Yavapai Nation Tribe Authorities.
There are many, many ways you can help out with
this huge task with so little time left.
The Park is closed. As such there is no income being generated. The Park needs at least $250,000 to feed the animals and build new facilities. Contribute what you can, even if it's only $5.
Donations can be made at:

Out of Africa Wildlife
Relocation Fund
4020 N. Cherry Rd.
Camp Verde, AZ 86322

or

Bank One
16744 E. Ave. of the Fountains
Fountain Hills, AZ 85268


Account #656096203 - C/O OAWRF
Donate building materials!

Start a movement within your school, church, or at work!

Volunteer your skills! Those with computer
and internet skills are eagerly sought to form
a committee by internet!

Donate a mobile home! Needed to house employees

Organize a Fund Raiser!

Contact the news media & make your concerns known!

Write a letter or email to the editor of one or more papers.

Large trucks are needed to transport animals.

Heavy equipment
is needed!

Volunteer your labor! Help is needed to dismantle the current facility and to build the new facility.

Contact the television and
radio stations.
What ever you can do is probably needed! Tell as many people as you can about the Parks plight and elicit their help. Let your employees know. Ask them to support the Park and their community! Make new friends. Get involved.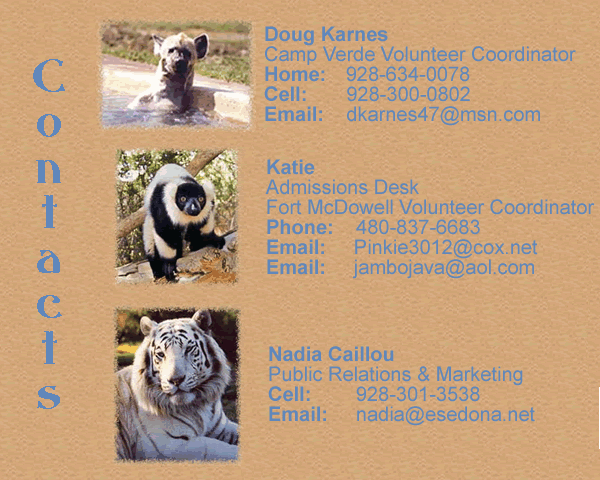 Come to the Soirée this Wednesday and show your support!
Bring a friend and get them involved with you.
The deadline is exactly three weeks from this Wednesday!
Concentrated action is needed now.
It is with great pleasure that the Out of Africa Wildlife Park, will be my Special Guest this week.
Please plan on joining us to socialize and meet new friends!
BBB